Unforgettable

px

Nat King Cole
Released
1952
1954
Recorded
January 27, 28, 1953
August 23, 25, 1955
Label

Capitol

Produced by
Lee Gillette
This article is about the 1952 album, for the song, see

Unforgettable (song)

.
Unforgettable is Nat King Cole's ninth studio album.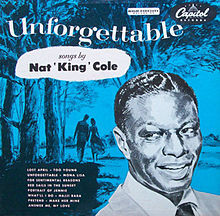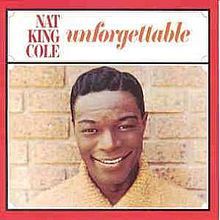 This album was originally released on a 10" LP format in 1952. This album, in 1954, was later re-released on an extended 12" format. This 12" release featured four extra tracks: "Answer Me My Love," "Hajji Baba," "Pretend," and "Make Her Mine." This extended version of the album was later reissued in 2008.
This album was Cole's first major milestone under Capitol and for his career. The album brought Cole several successful singles such as "Unforgettable" and "Too Young" that became fan favourites in Cole's late career. "Mona Lisa" and "For Sentimental Reasons" were the two major songs that came of out Unforgettable as these were the two that brought Cole to the top of the charts in the mid-1950s.
Track listing
"Unforgettable"
"A Portrait Of Jennie"
"What'll I Do?"
"Lost April"
"Too Young"
"Mona Lisa"
"(I Love You) For Sentimental Reasons"
"Red Sails in the Sunset"
Personnel
Personnel

Nat King Cole
piano, vocals
Johnny Miller
double bass
Oscar Moore
guitar
Nelson Riddle
arranger, conductor
Les Baxter
conductor
Pete Rugolo
conductor
The Carlyle Hall Strings
strings